YOEXPLORE, Family Vacation – If you are looking for a four star hotel in Bali, this article might be helpful to you. Family vacation is eagerly awaited moment before holiday coming. Mostly various kinds of tourist destinations are flooded with tourists, both local as well as foreigners. And, Bali Island in Indonesia is definitely one of the most favorite destination. Not only during holiday season, even all season in the year, Bali is always crowded by visitors. Especially, because of its extraordinaire natural beauty. In addition, Balinese cultures and customs that are inherent in everyday life of its communities becomes an unique attractiveness to its visitors. And during spending holiday, we prefer to have the accommodation that provides comfortable as well as great view. One of the best four star hotel in Bali that we could recommend is Puri Saron Hotel in Seminyak Bali.
Read Also: Four Star Hotel Recommended by YoExplore
Four Star Hotel in Bali, Puri Saron Seminyak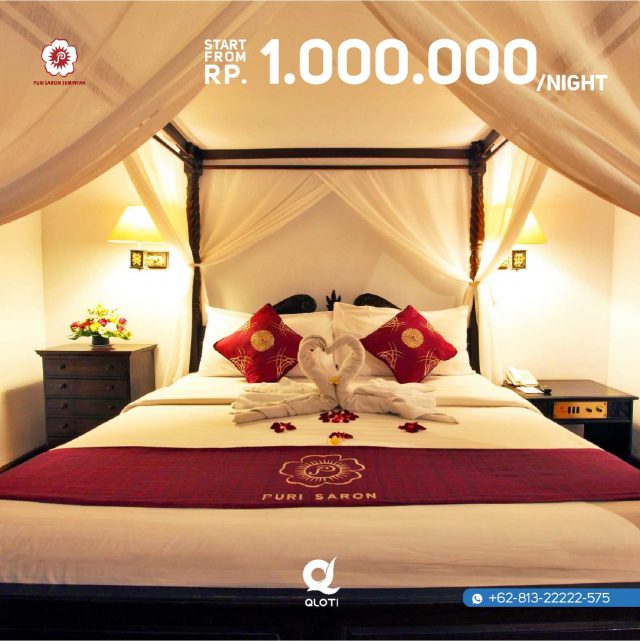 Puri Saron Hotel located at Camplung Tanduk Street in Seminyak, Bali. This four star hotel offers facilities that could be enjoyed by its customers. It has a superiority located right on the Seminyak Beach. The swimming pool of this four star hotel in Bali is facing up directly to the beach. So, visitors could enjoy the sound of the waves and white sand along the beach shore. The best view of beach that you could enjoy during staying at the hotel. Especially, the color of golden yellow sand during the sunset or sunrise.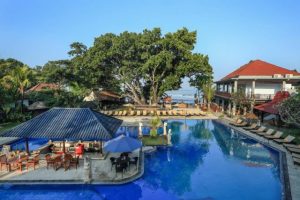 As you could imagine from the above picture, the swimming pool design is so beautiful where you could see the beautiful scenery of the beach in front of the pool. This spot could be the best spot for you to spend your peaceful afternoon with family. And if you travel with kids, you just need to walk from your room to reach the beach. No need to visit other beaches that are quite far from this four star hotel in Bali. Moreover, the Seminyak Beach is one of the most beautiful beaches in Bali Island. Therefore, spending quality time with family at this four star hotel in Bali could be the best experience for you and family.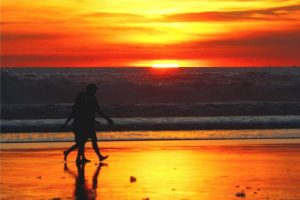 Should not you be impressed with this incredible sunset view? Surely everyone shall enjoy this beautiful evening scenery. You should not miss it too! Moreover, the waves are not too heavy, so it is suitable for children playing at the beach. Clean and white sand that stretch along the shore could be an advantage. You could find the good spot that is not too crowded by visitors.
Special Honeymoon Package for its Visitors!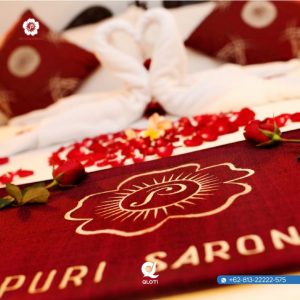 For couples who want the unforgettable honeymoon tour, this four star hotel in Bali also provides a package for honeymoon. The room as well as the swimming pool shall be decorated romantically and beautifully. Enjoying honeymoon in Bali is certainly the best choice. And we recommend you to choose Puri Saron Hotel for your best overnight in Bali Island.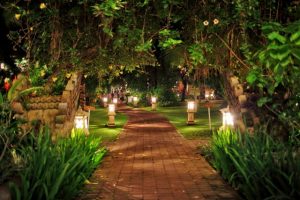 Furthermore, Puri Saron Hotel, Seminyak is also not too far from Ngurah Rai International Airport. You just need 25 minutes to reach the hotel from the Airport. In addition, the view of its garden and outdoor facilities is incredible great. The best spot where you could blend with nature. Enjoy the beautiful garden whose trees charmed with colorful lights. You could spend your evening by walking around the garden.
Spa Treatment at Four Star Hotel in Bali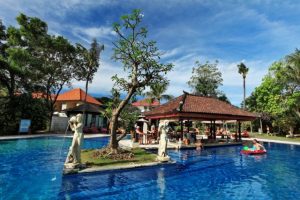 Besides the swimming pool with its spectacular beach view, Puri Saron Hotel also provides special spa treatment. In addition, you could enjoy free WiFi in your bedroom as well as public spaces. Each room is equipped with complete interiors. Moreover, the location is near to many tourist destinations. Among other Ku De Ta Restaurant and Legian Beach.
The room is designed with elegant color and spacious. In addition, you shall have your own balcony that faces the hotel landscape. And, you shall fall in love with the luxury design of its bathroom. You could spend hours to spoil your body in its bathtub.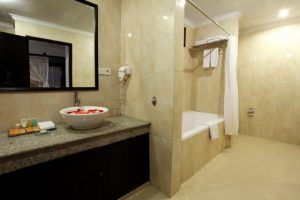 Could you see the luxury of its bathroom from the above picture? We believe you fall in love with the hotel. You shall enjoy the comfort that is provided by the hotel room. Besides its privacy, the facilities are also great that guarantee you to have the best rest time in the hotel.
Local and International Food Service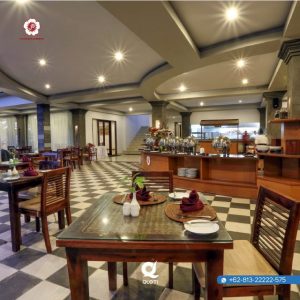 The Puri Saron Hotel also has a restaurant called Mawar Saron Restaurant. In this restaurant, you could order appetizer such as eggs, noodles, breads, muffins and many others. Besides appetizer, you could order special local menu as well as international menu.
Last but not least, the hotel also serves welcome drink when you firstly come to the hotel. There is also room service that you could utilize when you need any assistance.
Order with Qloti!
The hotel friendly staffs with their hospitality shall always ready for you when needed. Therefore, book it soon for your holiday in Bali. You could book it with our application, Qloti. Click this link or contact us via Whatsapp +62-813-22222-575.
Why we suggest you to book Puri Saron, the four star hotel in Bali with Qloti? It is merely because we offer special rate for you with cheaper price. You could compare our rate with others. The price is Rp. 700,000/night/room for domestic visitors, while international visitors the rate starts from Rp. 1,000,000/night/room. Cheaper? Off course.
What is Qloti? Qloti is an sister application of YoExplore, a marketplace where you could book online unique experiences. Qloti stands for Quality Lifestyle on the Inside. It is an E-Commerce application that sells various tour packages, hotel rooms and air flight tickets. So, everything is more simple just with Qloti!
So, this is it our review for the four star hotel in Bali, Puri Saron Hotel, Seminyak. We wish our information is useful for you to arrange your family holiday in Bali. See you in another article that review four star hotel in Bali, enjoy your holiday, and have a good day, Explorers!