A Travel Guide, YOEXPLORE – Are you still confuse where to travel in Indonesia? Based on the last data about the total island in Indonesia, our country consists of 16,056 islands that have been named and verified. WOW! How huge is Indonesia, isn't it? So, it is a common thing if you confuse in deciding where to begin your adventure in Indonesia. But don't worry because I will help you to list down 5 Interesting Places In Indonesia. Are you excited? Ok, let's begin our journey!
1. Enjoying The Romantic View In Love Lake
My first recommendation for the interesting places in Indonesia is Love Lake, located in Jayapura District, Papua. If talking about Papua, there are many tourist attractions that you can explore here. One of them is Raja Ampat. You will likely be amazed by its natural beauty such as the islands, lakes, mountains, caves, and many more. But now, we will talk about the unique place in Papua that is Love Lake. Actually, the real name of this lake is Imfote Lake based on its location name, but many people often call this Love Lake due to the shape of this lake that resembles the heart shaped. To enjoy the beautiful shape, you have to see it from the hill that surrounds this lake. After enjoying the beauty, don't forget to take your picture here. Because of the romantic vibes from the heart shape, now this lake is popular among couple who want to take their pre-wedding photos.
2. Surfing In Lhoknga Beach
Usually, people who want to surf will choose Bali as the best location for surfing. But there is another place to go for surfing. The place is Lhoknga Beach in Aceh. This beach is located about 22 kilometers from Banda Aceh and is the most famous beach among the international surfing community. Not only is Lhokanga Beach interesting for surfing, it is enjoyable for sunbathing, playing beach volleyball, fishing, and catching the sunset at the beach. Due to its sunset view, there are many tourists visit this beach just for enjoying the sunset view in the afternoon. For those of you who want to enjoy your honeymoon vacation, Lhoknga Beach is good option to explore.
3. Spend Family Vacation in Kampung Gajah
After reading the name, maybe you imagine in this place you will see elephants doing funny attraction in front of you, but you are wrong. It is just the name using the word "elephant" where there is actually no elephant here. If you are looking for a family-friend destination, Kampung Gajah is one option you can explore. This place is located in Sersan Bajuri Street, West Bandung. It is one of the interesting places in Indonesia for shopping, exploring the nature, exploring the culinary, and also trying various kinds of games which are enjoyable by the children. If you prefer a culinary tour instead of the games, this place is also a good option since you can enjoy various kinds of food, from Indonesian, Japan, Chinese to Western food.
4. Taking Vintage Style Photo In Kota Lama Semarang
Kota Lama Semarang has to be on your list for the interesting places in Indonesia. This old city has existed since the 18th century in Dutch East Indies government era. Formerly, Kota Lama Semarang was the Central Government of Semarang and the Residential Center of the Dutch society. If you are traveling to Kota Lama Semarang, you will be welcomed by many European-style buildings. As you walk along the road in this city, you will feel the sensation of an old memory that has risen. Remember to wear your vintage style clothes, so you can match with the "old city" vibes and also to take photos in this place. After taking photos, you can also enjoy the culinary along the complex in the night.
5. Cikahuripan = New Destination on the List of Interesting Places in Indonesia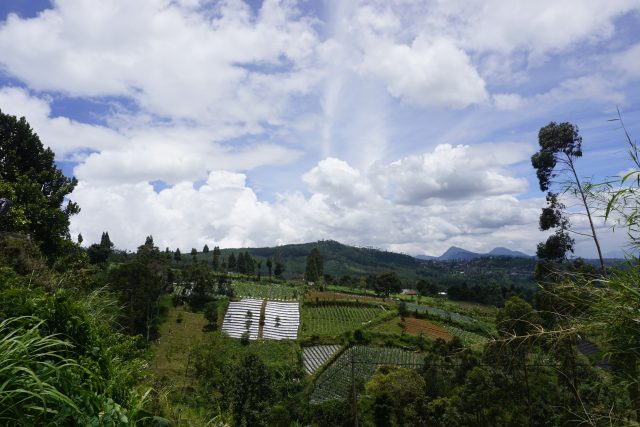 Enjoy nature tourism in Cikahuripan when you visiting this new tourist attraction in West Bandung Regency. This nature tourism offers you the view of the cliff with 10 meters height as a giant gate. The cliff was made of ancient rock that stretched for about 100 meters. There is a small river that is bluish green flanked by this cliff. The popular activity that you can enjoy in Cikahuripan is to explore the river using a buoy. You can sleep on your back and let the river flow carry your body while you enjoy the beauty of the cliffs and trees. Aside from enjoying the river, you can also try camping in this place. You can have your family camping time with the concept "back to nature" and also refresh the body with the fresh air in Cikahuripan.