The government of Indonesia has a strategic plan to increase the number of tourists visiting its territory to 20 million by 2020. Building on the success of Bali, this ambitious goal will inject investment across ten designated undeveloped natural hotspots, putting the infrastructure needed in place to support the next phase of development.
The '10 New Bali's' will showcase some of Indonesia's most beautiful areas – each targeted for their potential and scope – to become outstanding tourism attractions.
With the right type of development and infrastructure to facilitate this development, more locations will be put on the map and made accessible to tourists as the next new 'places to be' in Indonesia.
Investment in such a scale from the government gives confidence and assurance to individual investors whom we work on behalf, making Indonesia a convenient place for investment.
10 New Bali
Tourism figures for 2018 stood at 15.8 million, a 13 percent increase on the previous year. With an investment plan now in place, the government looks set to reach or even exceed its target market.
The knock-on effect of continued growth, will, in turn, create thousands of new jobs across industries, increasing the national GDP and raising the standards of living and opportunities to its local population.
The stunning archipelago that is might have once been known for exporting exotic spices, as well as natural resources such as oil and gas, copper, tin, precious metals such as gold, and plywood, rubber, and textiles. But one of its main assets, by far, is its unique, unspoiled physical geography.
It has been a long time coming that this land peppered by its unique mix of signature volcanos, fertile forests, mountain ranges, unique flora, and fauna. Also, it has a rich cultural diversity shown in its plethora of indigenous architectural styles seen across the territory. No wonder if it gets the recognition it deserves in terms of quality development, tourism.
Something for Everyone
Heard in the utterance of different languages of its citizens, Indonesia lives up to its motto, which is "Unity in Diversity." A large part of its potential and success is how the government actively promotes a sense of binding inter-cultural cooperation between its citizens and permits religious freedom. By officially recognizing six religions—Islam, Christianity, Buddhism, Hinduism, and Confucianism—people peacefully coexist, weaving their unique elements into the rich fabric of everyday life.
It is land of stories that have traversed the test of time—from ancient kingdoms and dynasties—to its more recent history of modern European colonial traders such as the Portuguese, the Spanish, and the Dutch.  Yet, the most important story is the next one to be written.
With assets best outlined in its places and people, it is a no-brainer as to whether the tourism model of Bali can be replicated elsewhere in the territory.
While Bali sets the bar high as a tourism model to work toward, it also serves as a blueprint from which the government and private investors can derive lessons from what works and what issues may arrive when developing and opening areas for tourism development.
With this road-map available, the next wave of tourism in Indonesia looks set to be one that is sustainable for many years to come.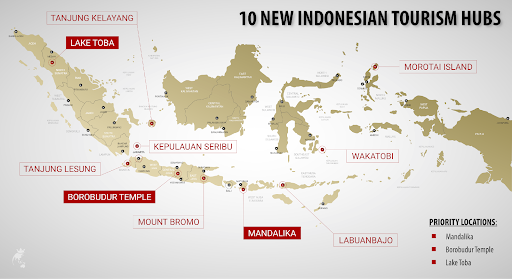 The 10 New Tourism Hubs
The hotspots listed below are destinations designated as the"10 New Bali's" for their potential and scope to become outstanding tourism attractions. Each place selected has distinct special features that, with the right type of development, have the potential to be the next "places to be" in Indonesia. Targeted investment by the government, provides a bridge of opportunity for individual investors whom we work on behalf of.
1. Lombok Mandalika
A specially designed tourism economic zone, stretching from the south coast of Lombok along the coastline towards popular surf spot "Grupuk Village," part of the Central Lombok Recency [administrative centers] of West Nusa Tenggara province.  With excellent proximity to an international airport and home to a world-class Moto GP track circuit with construction close to completion on the island of Lombok.
2. Borobudur
Borobudur is a Buddhist temple complex of renowned importance, comparable to the world-famous temples of Bagan in Myanmar and Angkor Wat in Cambodia. Housing some 2,672 painted reliefs and 504 Buddha statues, it promises to put Indonesia on the circuit of cultural world heritage tourism.
3. Lake Toba (North Sumatra)
The largest lake in Indonesia, known as a "caldera" (the collapsed mouth of a super-volcano), is set in an area of immense tranquility with ample opportunity for the continued expansion of its shores. Activities will include boating watersports, and it also acts as a base from which to tour surrounding attractions, such as adjacent pine forests, waterfalls, and museums, where you can learn about the local ways of life.
4. Tanjung Lesung (Banten)
Located on the western tip of Java, just 160 KM from Indonesia's capital, Jakarta, this upcoming beach destination has a host of holiday accommodation. Here you can jet-ski, surf, snorkel, or travel to see the famous Krakatoa Volcano, a short boat ride away.
5. The Thousand Islands (Jakarta)
A stone's throw away from Jakarta, this scattering of 110 small islands stretches out some 45 kilometers into the Java Sea. Eleven of the Islands are already developed into resorts, with others privately owned or designated as national park areas. Among the 11 populated islands, you will find a population of 20,000 and an imprint of the past, in the historic remnants left behind from Dutch colonial fortresses to a center dedicated to the study of seaweed. A perfect mix of marine activity and heritage tourism.
6. Tanjung Kelayang Beach (Bangka Belitung Islands)
This unique beach location may be a charming location for further enterprise due to its mesmerizing rock formations litter. Not only that, but it is also coupled with its crystalline waters, undeveloped coastline, and landmark white lighthouse.
7. Mount Bromo (East Java)
Part of the Pacific Ring of Fire – an area covering 40,000 km of the Pacific basin where earthquakes and volcano eruptions frequently occur – Mount Bromo is a natural wonder and a wilderness perfect for adventure seekers. Already offering hiking tours, visitors can choose to scale the volcano as a group or independently. It is a potential epicenter of exquisite once in a lifetime adventure travel.
8. Labuan Bajo (East Nusa Tenggara)
This fishing village is stationed on the western side of Flores Island—
Land of Flowers—with a local population eager to engage with visitors, offering boat trips, tours of the local school, as well as providing ample opportunities for visitors to experience what life is like in a small scale rural Indonesian setting.
9. Wakatobi (South Sulawesi)
Understated luxury is what Wakatobi, a self-styled exclusive dive site resort, is all about.
5* amenities, set in a beachy oasis of colorful coral reefs, there is ample room for executive style development in this location.
10. Morotai Island (North Maluku)
This northmost part of Indonesia's archipelago, once known as the "Spice Islands,"— is popular with those interested in diving or the fishing it offers in the periphery of its marine parks. An island of panoramic views and a seemingly endless 16 km white shale beach. Morotai sits among the type of untapped raw beauty that is begging to be developed with sensitivity and creative thought.