Bali Island is a paradise for Indonesian tourism. We could enjoy any type of tourism on this Gods Island. It includes beautiful beaches, exotic tropical panorama, green paddies terraces, water sports, arts, and cultural performances, and many more. Moreover, Bali Island is a children-friendly destination, so don't miss to plan your family trips to Bali in 2019. And read our article "Traveling to Bali with Kids: What to Consider" to gain some valuable information.
Tourism sector contributes to Indonesia GDP significantly. The Government has set up a target of 20 million visitors by focusing on Digital Tourism, Home Stay Village Tourism, and Air Connectivity in 2019. As in other countries, we also concern to involve local people in the tourism development in Indonesia. Therefore, local communities or villagers could participate directly to manage their tourism destinations and accommodations. And we hope it could create sustainable tourism where local people also could gain benefits from tourism. In addition, as travelers, we could also participate in creating sustainable tourism. Previously, we have published an article that describes how we and family could make impacts on local people.
Read also: Family Trips 2019: Supporting Sustainable Tourism for a Better Planet Earth
Therefore, through this article, we would like to list 10 villages that you could visit during your family trips to Bali. Those villages have their own uniqueness whether in the form of the beautiful panorama, how they preserve local cultures, or you could learn traditional dances, paintings, or weavings with the local people.
Family Trips to Bali: 10 Unique Villages
1. Tenganan Ancient Village
Firstly, for your family trips to Bali, you could choose to visit Tenganan Village. Tenganan Village located at Karangasem Regency in the eastern part of Bali. It is one of the original Balinese, also known as the Bali Aga. The east Bali is a very rich region where local communities hold strongly to the tradition inherited from their ancestors. They have traditional raw houses with dominant materials of stones, bamboo, coconut leaves as the roof, and a narrow door.
To explore the village, you could join Kastala Tenganan Rice Terrace Trekking. During trekking, you could enjoy rivers, forest, rice field, subak, and the panorama of Mount Agung. Interact with villagers and observe Balinese traditional ways of life. In addition, you could buy souvenirs from local communities, such as palm leaves art Tenganan calendar or weaving cloth called Gringsing. What unique is the production of Gringsing that takes a long time for 2 – 3 years. Therefore, the Gringsing clothes are scarce and expensive. If you have family trips to Bali in June or July, you could enjoy the Mekare-Kare or Pandan War Festival.
2. Penglipuran Village
Same with Tenganan Village, Penglipuran Village also located at the East Bali in the Bangli Regency. A beautiful highland lies on the foot of Mount Batur about 700 meters above sea level. Therefore, it has a cool temperature. The local people called Bali Muna People, talented people who create their village as one of the cleanest villages in the world. You shall impress with the entrance gates of houses in Penglipuran Village. They are made similar to each other. There is a bamboo forest which is famous among travelers for trekking activities and biking tours. Take a selfie with family members with the beautiful background of Panglipuran Village.
3. Celuk Silversmiths Village
Thirdly, don't miss to visit Celuk Village during your family trips to Bali. Celuk Village is as famous as Kota Gede in Yogyakarta. Located at Gianyar District, it is the largest center of silver jewelry. Most of its local communities are goldsmiths and silversmiths. So, you could see many galleries and workshops along the road of Celuk. You could buy the best and high-quality jewelry for yourself or as presents for families or best friends. There are bracelets, necklaces, broaches, earrings with beautiful designs. In addition, you could witness the making process or learn to make your own jewelry.
4. Batuan Village
Batuan Village located in Central Bali, 10 kilometers from south Ubud and 7 kilometers from north Denpasar. It is one of the famous tourist destinations for artwork, paintings, and wood carvings. The painters and craftsmen from this village have been existed since thousand years ago. You could visit the Batuan Painting Gallery to see and buy traditional painting collections from local artisans. Or, you could join a study tour to Batuan Village to join the class of dance, gamelan, wood or leather carving, and painting classes.
Tegallalang is very famous with its beautiful landscape of terraced rice fields. It is not just a rice field, but it also expresses local culture and local wisdom. The irrigation system known as Subak has been recognized as one of World Heritage by UNESCO. Subak itself reflects the philosophy of Balinese called Tri Hita Karana. It means a harmonious lifestyle between Human to God, Human to Human, and Human to Nature. Tegallalang is also known for its local handicrafts. You could buy Balinese sarong, ornaments, and paintings.
Moreover, while you are in Ubud, you could also join the organic farm and Balinese cooking class. You could choose to join the cooking class in the morning or afternoon. Go to the Tegallalang local market to buy local ingredients Then, harvest your own organic vegetables and learn to cook with local communities.
Batu Bulan Village located in Gianyar District is a popular place to study traditional Barong and Keris Dance. You could also learn stone carving with local artisans. The local people of Batu Bulan Village, due to their creativity, have changed the village to be an art village. The tourism sector has created good impacts on the welfare of local communities.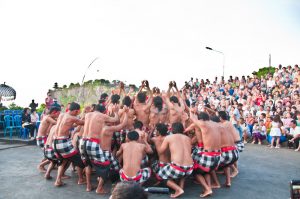 7. Pengotan Village
Pengotan Village is also one of Bali Aga or Balinese traditional village. Located in the District of Bangli, Pengotan Village has much potential attractiveness. You could enjoy the beautiful panorama of Mount Batur, bamboo forest, and agriculture. Most of its local people are farmers who plant oranges, coffee, and vegetables. You could enjoy camping ground at Baliwoso Camping Site. During the stay in the camp, visitors could learn traditional dance and traditional games.
8. Mas Village
Another art village that you could visit during your family trips to Bali Island is Mas Village. Located in Gianyar Regency at the South of Ubud, the village is popular as the center of wood sculptures. The theme of wood carvings is mostly about the harmony between human and nature. The products range from small ornaments up to giant sculptures. While you visit Mas Village, you could also visit an archeological site, Elephant Cave at the northern part of Mas Village.
9. Family Trips to Bali: Buleleng Ancient Villages
Buleleng Regency is very famous with beautiful waterfalls, Lovina Dolphin Tour, and also Bali Alga Villages. The Buleleng Local Government has stipulated 5 villages as Bali Aga Villages, namely Sidatapa Village, Cempaga Village, Tigawasa Village, Pedawa Village, and Banyuseri Village. In Sidatapa Village, you could see traditional houses called Bale Gajah Tumpang Salu. Cempaga Village has the attractiveness of wildlife conservation and natural waterfalls. Most of its local people are farmers who produce coffee, banana, durian, and chocolate. While Tigawasa Village is a Bali Aga whose local people believe that a dead body should be buried directly.
10. Trunyan Village
Trunyan Village is a remote and isolated village located on the eastern shore of Lake Batur. Trunyanese people have the unique tradition in funeral rites for marriage people. They don't cremate or bury the body but put it into a bamboo cage openly under a magic tree called Taru Menyan tree in the cemetery. The trees produce unique fragrances that absorb the rotting smell. After the body gone naturally, the skulls and skeletons are later placed on a stone altar. Therefore, the village is also known as the skulls island. Somehow, for unmarried people, the local communities buried the dead body. But, we think it is not appropriate to visit this village with young children.