A Travel Guide, YOEXPLORE – Have you ever explored the adventure side of Yogyakarta? Maybe you never think about it. Yogyakarta is a city that keeps the history of Indonesia and strongly holds the Javanese customs. Most of the people and maybe including you choose to travel to Yogyakarta to learn about Indonesian history and the Javanese culture. No wonder that Yogyakarta is known as the "City of Culture". But actually, Yogyakarta isn't always about the history and culture. You can explore the adventure side of this city. Many tourist destinations in Yogyakarta offer the adventure sensations that are no less exciting than the other tourist attractions. Are you ready to experience your adventure tour in Yogyakarta? Let's begin now!
1. Experience Amazing Race In Jomblang Cave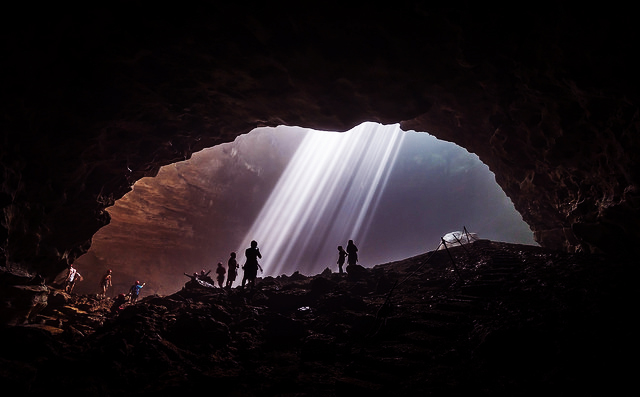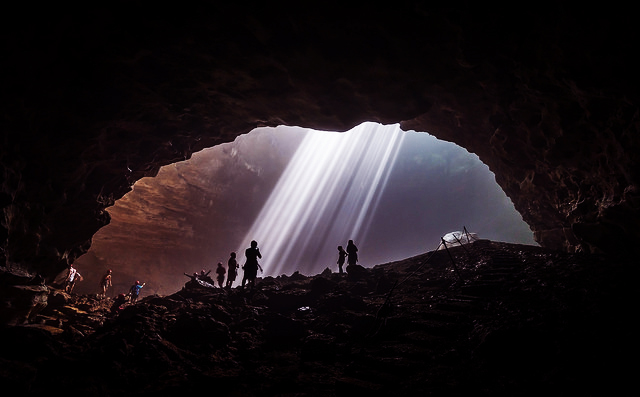 Your first adventure tour in Yogyakarta begins in Jomblang Cave. I am very proud of this destination since it was chosen for the shooting location of "Amazing Race" season 19, one of a famous American reality television shows. What so special about this cave?
Jomblang Cave is known for its Heaven's Light. To see Heaven's Light, you have to climb down through this vertical cave for approximately 80 meters and do trekking inside this cave. Don't worry about your safety, because you will be given special equipment that complies with the security standards of caving in the vertical cave. In addition, you will also be accompanied by an experienced cave carer.
2. Explore Pindul Cave Through Cave Tubing
The next adventure tour in Yogyakarta that you should not miss is Cave Tubing in Pindul Cave. Pindul Cave has the length of 350 meters, the width of 5 meters, and the depth of 5-12 meters. Pindul Cave has 3 zones, the bright zone, dim zone, and dark zone. Cave Tubing is an activity where you will go down the cave using rubber tire. Cave Tubing in Pindul Cave is a safe adventure activity for beginners, children, and even pregnant women. That is because the water flow in Pindul Cave is very calm. In the middle of this cave, you will see a large room with a hole above it. Local people call this room as Inverted Well (Sumur Terbalik). The hole above this cave often used as vertical entrances by SAR members.
3. Enjoy The Nature Beauty Through River Tubing in Oya River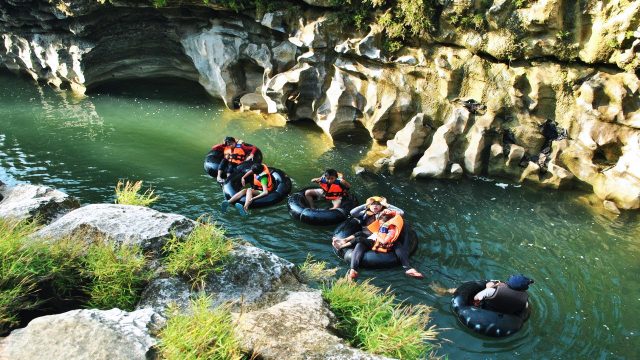 This adventure tour in Yogyakarta is definitely worth to try. You will experience the tour activity that arouses your adrenaline while enjoying the panorama along Oya River. One of the amazing panoramas is Sri Gethuk Waterfall. On sunny days you can see the rainbow that appears around the waterfall. That's why people often called this waterfall Rainbow Waterfall. So, make sure you take a moment to enjoy this natural beauty. And of course, you will try this Oya River Tubing accompanied by an experienced guide.
4. Trying Merapi Lava Tour As Adventure Tour In Yogyakarta
It isn't adventure tour in Yogyakarta if you are not trying Merapi Lava Tour. Why this tour activity called Merapi Lava Tour? It is because you will experience a trip using Jeep that was used during World War II. You will explore the area in Merapi that was damaged by the eruption of Merapi Mountain in 2010. Merapi Lava Tour will certainly arouse your adrenaline because you will go through steep road. Along the way, you will visit Allien Rock, Bunker, Merapi Eruption Museum, Merapi Mount Scenery, and activity of sand mining.
5. Sandboarding at Gumuk Pasir Parangkusumo
Do you ever try sandboarding? Sandboarding is an extreme sport where players will glide on the sand using a skateboard. No need to go abroad to try this adventure activity because you can experience sandboarding at Gumuk Pasir Parangkusumo. Before you try sandboarding, you have to use safety equipment before sliding at the sand such as a helmet and also knee and foot protection. At first, you may be scared to slide from 5-7 meters in the height. But after that, you will be hooked and want to try it again. Please to remember be careful and also maintain your balance.